The impact of social media on the success of a business is becoming more and more apparent. Businesses and brands alike are seeing the importance of staying relevant online in a digital and mobile world, but many are struggling to effectively use social media to meet their goals.
Based on the results of Software Advice (a consultancy group for social CRM tools) and Adobe's Social Media Content Optimization Strategy survey, 55 percent of marketers said that social media optimization is at least "somewhat difficult." And these are marketing experts!  So how can a business owner keep up?
We've outlined the key aspects from Software Advice and social media influencer Liz Strauss' analysis of the survey to help you create a social media plan that is effective and measurable and then optimize your social media for success:
Multiple Social Media Outlets
The majority of survey participants (84 percent) said they regularly post on at least 3 social media outlets, with 3 percent active on 11 or more networks. When your competitors are active on so many sites, only being on Facebook and Twitter may not be enough.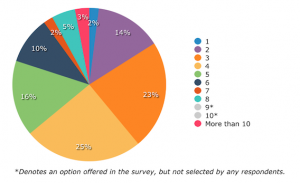 However, many users "are using channels in a non-useful manner: posting randomly, without a goal, and without a true understanding of what can be accomplished on any social channel." There's a big difference between posting frequently and posting strategically.
A sound social media marketing strategy will not only involve publishing a lot of posts – it will involve publishing the right ones.
Post Frequency
Nearly half (47 percent) of respondents said they post on social media sites at least twice a day. Impressively, 19 percent post more than three times a day.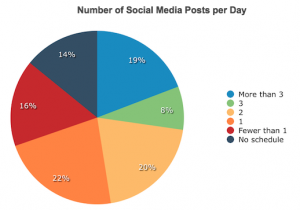 Businesses that fail to post consistently will likely struggle to build brand recognition and engage audiences, especially when faced with competitors that have adopted more regimented social content delivery strategies.
Advanced Scheduling
The majority (41 percent) of participants responded that they schedule their social media posts "several days to one week" in advance. Planning posts ahead of time allows for finding content that is more meaningful and relevant to your audience and easy to post on multiple social media networks. 
Important Social Media Tactics
Eighty-two percent of participants said it is "important" or "very important" to use images in posts, while 67 percent said the same for using hashtags and usernames.
Most marketers believe optimizing their businesses' social media content requires a multifaceted approach but many have their priorities out of whack. Their prioritization of images and hashtags over targeting specific audience is backwards. How do you know which images are going to resonate with your audience if you don't know who your audience is? Also calls-to-action (CTAs) only work "when you know exactly who you are trying to reach and what you want them to do."
When your images and CTAs are relevant to your audience, they are more inclined to respond to and share your content with their followers, ultimately, engaging your business with new potential customers.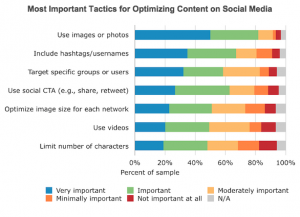 Determining the Best Posting Times
Most of the marketers said it was important to test the share and click-through rates (CTRs) of content at different times of the day and days of the week to discover when their audience was most receptive. And these decisions should be based on multiple performance indicators rather than focusing exclusively on any single metric.
Over 60 percent believe the use of social media optimization tools such as Hootsuite and Adobe Social are important for determining the best posting times.
Outside research proves as a valuable resource because it serves as a good jumping-off point for trial and error testing (A/B testing).
Measuring Social Media Goals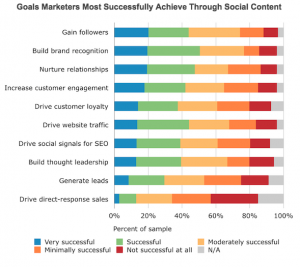 Most participants said they had social media success with gaining new followers (74 percent) and building brand recognition (77 percent), but less than half said they were able to successfully nurture relationships with potential or existing customers via social media.
These results suggest that businesses are achieving half of what an overarching social media strategy can do for their company. Integrating tactics that nurture relationships can provide businesses with real, measurable results from their strategy.
Automated Posting Software and Services
More than half (57 percent) of the survey respondents said they use an automated posting service or software. Automated posting software is required to generate data and insight into the success of a social media strategy. The 43 percent of marketers who manually manage social media posts are putting themselves at a serious disadvantage.
Unless you are actually counting, "you're likely to be way skewed. And even if your intuition is right, you'll have a much easier time selling it to your boss or your customers if you can back it up with numbers." Also, automated posting tools allow you to see what is being said about your business on various social networks.
—–
Upbeat Marketing specializes in Social Media Strategy – contact us at 512-222-7141  or info@upbeatmarketingaustin.com for more information or for help optimizing your business' social media marketing strategy.