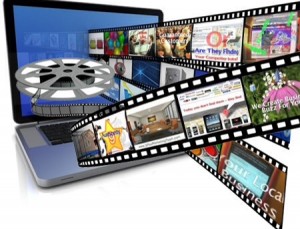 Do you have the time to write 1.8 million words? We didn't think so. According to Dr. James McQuivey of Forrester Research, 1.8 million words is the value of one minute of video(Source: Video Brewery). It's like that old adage "a picture is worth a thousand words" except for a lot more words. It is this statistic, in an addition to a whole host of others (some of which we will share in this post) that convince us that video is one of the most effective way to reach an audience today and is the future of marketing. We have been employing the use of video in many of our current projects and are seeing the ROI of video marketing first-hand.
Video is valuable for your business and brand primarily as you will see in these staggering statistics. Over 100 million people watch video online every day and the average Internet user is exposed to an average of 32.2 videos each month (Source: Video Brewery). What is most striking about these video viewers, however, is the action they are more likely to take after watching video.
Some key statistics include:
That's not where it stops. Video placed in an email marketing campaign creates a 51% increase in subscriber-to-lead conversion rates versus campaigns with no video. Having video on the landing page of your site also makes it 53% more likely to show up on page 1 of Google (Source: Mist Media). As video continues to grow, marketers must utilize this platform to maintain customer attention.
Another potential side effect of using video to grow your brand includes the potential of going viral and reaching a larger audience than your target by employing funny, memorable or touching situations (See the way American Greetings accomplished this in the video here).
Video also gives you a unique opportunity to interface with a large number of your consumers as well as answer questions and address concerns directly.
The value of video is simply too great to pass up. The statistics speak for themselves and tell us that consumers are more likely to listen to your brand or business when the story or content comes in the form of video. Coupled with social media to increase views and shares, video can be one of the most effective ways to get the main messages of your product or service to stick with your potential customers.
Want to utilize Upbeat Marketing to help your business gain the exposure video can offer?  Contact us at info@upbeatmarketingausitn.com or 512-222-7141 and we would be happy to talk!