"A 2012 Google study found that 60 percent of B2B tech buyers seek peer reviews before they make a purchase decision. And, according to a McKinsey report, word of mouth is the primary factor behind 20 to 50 percent of all purchase decisions."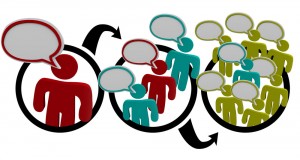 We cannot stress enough the importance of building strong partnerships and referral sources.  Small businesses thrive on referrals, and what better way to gain trust with your customers than positive word of mouth.  Think about how you make your own personal purchase decisions — how often do you post on Facebook asking your friends to recommend their favorite restaurant, doctor or vacation spot?  It works the same way with B2B.
It's possible that you already have brand advocates out there, so to start we recommend compiling a list of your latest referrals sources.  Over time you may start to see patterns in your referral sources that we previously not on your radar (Side Note: Be sure to THANK your referral sources often.  Small gestures go along way.  Try a  hand-written thank you, a cookie delivery or just a simple phone call.)
Next, building on your already established partners, begin to identify other NEW brand advocates – starting first with customers who already support you.  Three customer personas of potential brand advocates are outlined by Software Advice in their article about Building B2B Brand Advocates.
The three customer personas for building brand advocates are:
1. Socially Active Customers – These are your socially savvy customers who are active online and consistently share or comment on your content
2. Peer Problem Solvers – These come to your aid by actively supporting potential customers on your behalf or defending you when necessary 
3. Customer References – These provide a personal touch by sharing positive experiences directly with prospective customers
Also mentioned in the article are 3 important steps for developing your brand advocate program:
1. Start Small & Vary It Up – To encourage participation, limit your number of asks to these groups.  Start with small tasks such as following you on social media and then build up to more time-consuming tasks like requesting a written blog post.  Also keep your requests frequent and varied to increase continued participation.
2. Say Thank You via Recognition – Instead of monetary gifts, recognition of your brand advocates goes a long way.  Consider a sneak peak of your product launch, premium access to your products/services, special badges or awards or even a hand-written note as mentioned above.
3. Manage Your Program – An advocate marketing platform is the best way to keep your participants organized and mobilized and to track progress made by brand advocates.
Whether you are nurturing relationships with existing brand advocates or developing new advocates to sing praises for your business, we hope you've found this information helpful. Contact Upbeat Marketing at 512-222-7141 or info@upbeatmarketingaustin.com for further help with your brand advocate program or browse our website to learn more.