Events are an essential way to get your product or business out there in the public eye. However at any standard event, be it a tradeshow, festival or fair, there are bound to be other companies and even your competition present! How do you make sure that your booth stands out and your company gets the public's attention?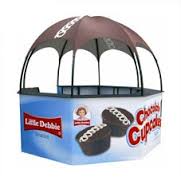 You need to make sure that you make the right impression and leave the right memory with the attendees. Here are some tips to get you started on making the best experience at a public event:
1) Be childlike – At the core of every adult is a hidden child. We are all naturally attracted to games, toys, colors, and wonder. Find a way to make your booth fun and childlike enough to grab your audience's attention.
2) Don't stray too far – You are the experts in what you do, so don't try and give off the impression of something you're not. Show them that this is your area of expertise and incorporate your activity or ploy into your skill. This will show the audience that you are knowledgable in your category and can make it entertaining.
3) Learn from others – One of the best ways to get ideas is to see what other people are doing. At your next event, take a peek at the surrounding booths and see what people are up to! Another fun way to explore and see what is out there is to go to a festival or fair with some co-workers to get ideas.
4) Show them your passion – One of the easiest ways to get people to your booth is to be energetic and passionate about your product/company. Show them why you are in the business and why you care! When an employee shows their passion, it makes it easier for the audience to engage with them.
If you'd like to talk further with Upbeat Marketing on ways to make your events special, visit www.upbeatmarketingaustin.com or contact info@upbeatmarketingaustin.com or 512.222.7141 with any questions.  We look forward to hearing from you!