Do you recall playing riveting games of Connect 4 as a child?  Much like the strategy involved in Connect 4, success in marketing requires many pieces working together.  Today, an aspect of marketing that is becoming increasingly significant and effective is the use of visual content to engage your audience.  Without this piece, companies will find it difficult to win the game.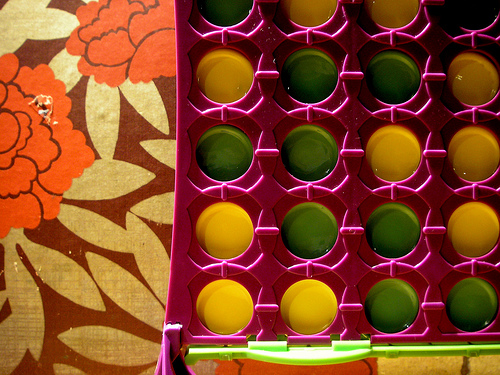 Online videos, image sharing sites like Flickr and Pinterest, smart phone cameras and graphic design programs all provide easy access into visual content creation.  Companies are increasingly utilizing these visual vehicles to carry their messages, and customers are responding.
The research findings related to this topic unanimously boast the success of visual content over alternative non-visual methods of marketing.  For example, Zabisco found that "90% of information transmitted to the brain is visual, and visuals are processed 60,000 times faster in the brain than text."
Here are a few steps you can take today to line up your visual content:
Build Intentional Design into Your Website
Today, when a consumer wants to learn more about a company their first inclination is to visit the website.  According to the Standford Persuasive Technology Lab, 46.1 % of people say a website's design is the number one criterion for discerning the credibility of the company.  Infographics that visually explain your product /service can be another great way to incorporate an interesting visual element into your website.
Create a Video on Your Product / Service
Investing in a short video explaining the benefits of your product / service is a great way to differentiate yourself from your competitors.  Research conducted by Internet Retailer shows that people who view a product video are 85% more likely to purchase a product.  Savvy consumers today are taking the time to research their purchase options, so give them a reason to pick your product / service.
Include Images in Your Blog and Social Media Posts
With the built-in camera on your smart phone, sharing original pictures is easier than ever!  Adding fresh and creative images is a great way to drive traffic to your site and increase engagement with your audience.  If you don't have the time to contribute original images, sites like Flickr, Instagram and istock are great resources to find images.
Need help connecting?  To learn more about visual content or to improve your use of imagery within your marketing plan, contact Upbeat Marketing at 512-222-7141 or email info@upbeatmarketingaustin.com.
Lauren Perkins
Upbeat Marketing, Account Manager