Wow, 2012 was a tremendous year of growth and exciting new projects for Upbeat Marketing.  In our third year of business, we experienced so many positive changes and new opportunities that is was hard to keep up at times!  However, we are never known to turn down a challenge, and in fact we feel invigorated after such an eventful year!
We hope you will enjoy reading this quick recap of our Top Five Experiences from 2012: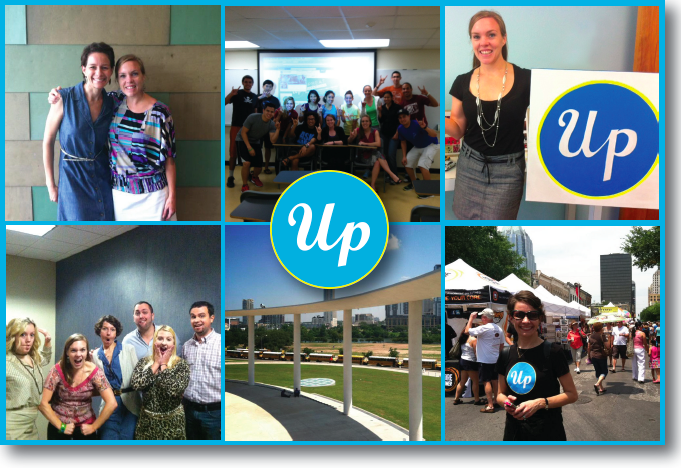 1. New Office Space!  
In July, we moved our office up north to Spicewood Springs and couldn't be happier with our new location.  With more space for our internal team and a colorful environment to keep us inspired, we have the perfect new home for servicing our clients.  Drop us a line if you'd like to come by and see the new space in 2013.
2. Pecan Street Festival
One of our most fun client experiences in 2012 was the opportunity to manage Public Relations and Social Media for The 34th Annual Pecan Street Festival in Austin, Texas.  This Austin event started in 1978 as a venue to showcase and celebrate local artists, restaurants and musicians. It's name came from the original name of 6th Street when all the streets of downtown were named after local trees.  Today, the festival is a family-friendly, pet-friendly, artist-filled two-day celebration capturing the flavors and trends of Austin and surrounding cities.
Over the course of our four month campaign, we successfully received over 30 write-ups from regional blogs, newspapers, magazines and online sources.  We also grew the Facebook fanbase by 33% and Twitter followers by 51%.  In addition to learning a lot and meeting so many wonderful members of the Austin community, we had a blast every step of the way.
3. RISE "The Un-Conference"
Each year, RISE puts on an "un-conference" that takes place across the city of Austin for one week.  Business owners, entrepreneurs and experts across the city volunteer to host sessions on a variety of topics, including Marketing, Product Development, Accounting, Leadership, Entrepreneurship and more.  Each night during the week, they offer speed "pitch" sessions with investors, networking parties and keynote speakers.
In March 2012, Upbeat Marketing had the pleasure of hosting a session about Grassroots Marketing.  The seminar was designed to help small  business owners understand the importance of strategic partnerships and learn how to build strong, meaningful connections through social media, PR, networking and more. We were fortunate to have a great turnout of passionate entrepreneurs attend our session, and we really enjoyed giving back to the business community.
4. Rebranding The Long Center
One of the most rewarding aspects of our job is the opportunity to work with iconic Austin businesses.  April 2012 kicked off a year-long project to assess and revamp overall branding and a messaging platform for The Long Center for the Performing Arts.  In partnership with creative firms Creative Suitcase (Lead Agency) and Willard Interactive (Website Development), Upbeat Marketing was responsible for conducting market research, re-building the Long Center Messaging Platform, improving Search Engine Optimization and editing the new website content.
Without giving away too much, you can expect to see several innovative ideas and changes launched this spring to kick off the 2013 season at the Long Center.
5. Inspiring Future Generations at The University of Texas
In September of 2012, Upbeat Owner Suzanne Feezel was asked to speak to a Health Communications class at her alma mater The University of Texas at Austin (in fact, for the class was taught by one of her previous professors!).  With a passion for athletics and a resume of health-related clients, Suzanne was thrilled at the opportunity to give back to the university.  Suzanne told the students about her journey to starting Upbeat Marketing and all the lessons learned along the way.  She also taught them about the Inbound Marketing Process that is shaping the marketing world today.
But, the most fun part of the presentation was a hands-on social media activity for the students.  Suzanne asked the students to split into groups and come up with one Facebook and one Twitter post that Upbeat Marketing could post after the presentation.  This exercise challenged the students to think from the perspective of a business owner and condense their thoughts into a bite-size business appropriate chunk.  It was so fun to see the excitement in the student's faces as they wrote their posts.
Suzanne actually picked the winner and posted it on the Upbeat Facebook the next day: We took a field trip today to share marketing strategies with future health and fitness professionals at The University of Texas, Kinesiology. We appreciate the opportunity to train the next generation!
We are looking forward to 2013 and can't wait to see what the New Year has in store for Upbeat Marketing!
To learn more about Upbeat Marketing and our complete list of services, please visit our website www.upbeatmarketingaustin.com or call us directly at 512-222-7141.
Happy New Year to all!
Suzanne Feezel
Owner, Upbeat Marketing