While brainstorming ideas for a client a few weeks ago, we started singing the Sound of Music song, "My Favorite Things." It got me thinking about my favorite marketing things so I thought I'd put together an industry version. Click here and give the original song a listen to set the tone and then sing along!
Everything in Dubstep and grumpy old kittens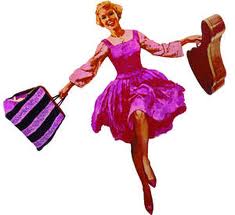 Mishaps, brawls and kids fingers being bitten
Dancing Korean pop star and Facebook parenting
YouTube is one of my favorite things
Hubspot, SEOMoz and Seth Godin
Spin Sucks and Copyblogger and PR 20/20
Atlantic Pacific and the J Peterman catalogue
These are a few of my favorite Blogs
Breaking tech news and epic Edgerank
Gaming, celebrities and coveted page rank
Content for everyone, simply a-maze-ing
Mashable is one of my favorite things
When the client bites
When the deadline stings
When I'm feeling uninspired
I simply remember my favorite marketing things
And then I don't feel so bad
Check out some of these fantastic marketing resources and share some of your favorites with us on our Facebook page or tweet us at @upbeatmarketing. Thanks for reading and singing along!
Sarah Holick
Account Manager