Wow, we can't believe how quickly 2012 has flown by!
As we approach 2013, now is the time to revisit your previous year's marketing strategy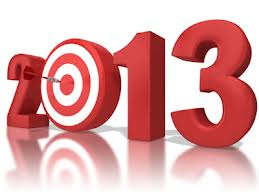 and begin preparing for the New Year.  Take a few minutes to reflect on the current year. How did your business change or grow?   Did you introduce any new products or services?  Did customer sentiment improve?
Most likely, your business experienced changes in 2012 that will require modifications to your existing marketing strategy.  At Upbeat Marketing, we specialize in marketing strategy and follow a strategic planning process with our clients that is outlined in detail below:
1. Market Research – Market research is a great way to solicit feedback from  your advisors, past, current and prospective customers, and to learn from the people who matter most.  Here are a few simple ideas that are easy to execute:
Host a Focus Group – These can be formal or informal.  We recommend groups no  larger than 6 people so that everyone's voice can be heard.  Develop a list of 10 questions, and set a time limit for each question to help you stay on task.  If you expect sensative feedback from customers, it may be better for the business owner(s) or key decision makers to leave the room (or perhaps not even attend) so that participants feel comfortable enough to provide candid feedback.
Schedule Interviews – One-on-one settings provide an intimate atmosphere for digging into the details.  Schedule three interviews with valued customers, unhappy customers or business advisors and ask them the pointed questions that will lead to business growth.  Listen to their feedback and try not to be defensive — constructive criticism will only help you improve!
Send an Online Survey – During the busy holiday season, face-time with customers and advisors may be difficult to manage.  Consider sending an online survey instead (surveys can also be the perfect compliment to your Focus Groups and Interviews).  Don't be afraid to ask the tough questions that you REALLY want to ask — and be sure to include detailed answer choices as well as an open field for "please explain."  Take advantage of online free survey tools like SurveyMonkey.com to easily review and track survey responses.
2. Marketing Strategy – Don't wait to put together an action plan for 2013.  Your Marketing Strategy will guide your decisions throughout the year, and it is essential to any business.  Schedule a planning session and think through these key elements:
Goals & Objectives – What are you hoping to accomplish this year?  Do you have a specific sales goal or perhaps a desired position in the market?  Set clear goals for 2013 and put check points in place to measure your progress along the way (metrics are gold).
Target Audience – Do you have a clear picture of your ideal client?  Did your target audience change or remain the same in 2012?  It is important to understand customer sentiment surrounding your products/services and to learn the purchase behaviors of your target audience.  If you are unsure of your target audience, take a look back at your purchase data and social media metrics for customer demographic information.  You can also include demographic-related questions within your online survey.
Lead Generation – How does your ideal client find products or services like yours?  Once they find you, do you have a sales team in place to qualify leads and ultimately make the sale?  Familiarize yourself with the Inbound Marketing Process and create a plan for attracting and servicing your target audience.
Marketing Challenges – What challenges did you face this year?  Did your competitors beat you to the punch?  Spend time addressing each challenge as a team and brainstorm creative ideas.  Consider how you might overcome these challenges in the year ahead.
Marketing Budget – As you begin to draft your action plan, consider the expected financial and time resources you'll need to set aside.  Rather than making a "game-time" decision every time a marketing opportunity arises, outline your budget ahead of time and execute your marketing campaign with confidence.
3. Messaging Platform – Messaging rounds out a marketing strategy by ensuring that you're saying the right things to the right people. We recommend drafting a formal Messaging Platform that outlines your most important company messages.  This platform will serve as an internal working document throughout the year and will inform all future messages, including Social Media, Email Marketing, Radio Ads and more.
If you already have a messaging platform in place, now is a great time to revisit those messages and assess how well they represent your business (in light of all the positive growth you experienced in 2012, right!).   Here are the primary components to consider:
Mission Statement
Vision Statement
Positioning Statement (click here for a sample)
Tagline
Primary & Secondary Messages
Proof Points or Supporting Statements
We thrive on strategy and thoroughly enjoy the process of getting to know your business and planning for your success – let Upbeat Marketing take the lead on your 2013 Strategic Marketing!  Contact Upbeat Marketing at 512-222-7141 or info@upbeatmarketingaustin.com.
Happy Holidays!
Suzanne Vernau Feezel, Owner