Every business has one fear in common: making a PUBLIC mistake. But should that be your biggest fear? No. Every company makes mistakes – it's inevitable! Accidents happen or something slips through the cracks, but it's the way that the situation is handled that leaves a lasting impression. Even the most serious of public offenses have been ignored due to the company's impeccable problem solving strategy. In the event that a catastrophe does occur, how will your company respond?
Here are the "do's" and "don'ts" of handling a public relations crisis: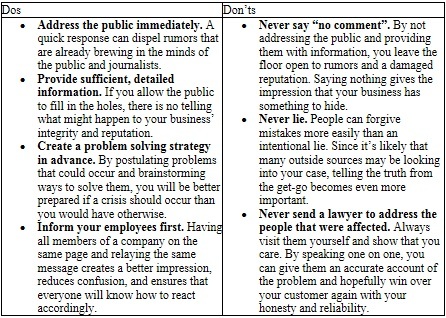 Though your situation may be scary, stay calm and apply these rules. In doing so, you can maintain your credibility and not lose clients!
Upbeat Marketing can help your business create a PR problem solving plan. Contact us at 512-222-7141 or info@upbeatmarketingaustin.com, and we will work together to find your perfect solution!
Lindsay Satterfield
PR Intern