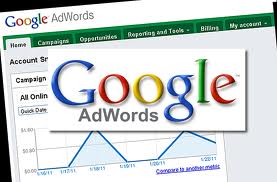 In true Google form, they thrust another update upon us with little to no warning. Fortunately, this is update is pretty cool. Starting mid-May, users will see changes in AdWords to keyword matching and quality score evaluation.

Change to Keyword Matching
Phrase + Exact Match Now Includes:
"…close variants, including misspellings, singular/plural forms, stemmings, accents and abbreviations. Based on our research and testing, we believe these changes will be broadly beneficial for users and advertisers." -AdWords Blog
Previously, if you entered [ninja cat] in AdWords, your Ad would only be triggered if someone searched the exact term 'ninja cat.' Now, if you enter [ninja cat] your Ad will also appear for the search query 'ninja cats' (plural firm), 'ninja caats' (misspelling), 'nja cats' (abbreviation), etc…
Google does tell us that the Quality Score is still solely calculated on the keyword phrase you're bidding on. So, hypothetically, in our scenario, you only need to worry about the keyword phrase 'ninja cat' as far as optimizing your Quality Score (using your Ad Copy + Landing Page].
This Update is certainly helpful as far as the misspellings go. As Google says…
"At least 7% of search queries contain a misspelling, and the longer the query, the higher the rate." -AdWords Blog
However, while this update is certainly convenient and helpful in one regard, it does get in the way of discovering which specific keywords are the most profitable. By this I mean, if we want to figure out if 'ninja cat or 'ninja cats' is a better keyword, it is now more difficult. We can now only determine which keyword (singular or plural) triggered the Ad by using the Search Term Tool in AdWords.
Overall, I think Google wants to show more ads so they make more revenue. I'm not sure that the Advertisers best interest is the main purpose of this update.
Change to Quality Score
Google did not change the way the Quality Score is calculated, however, they are providing more information as to why a particular keyword phrase is getting a lower or higher Quality Score. See the insert below.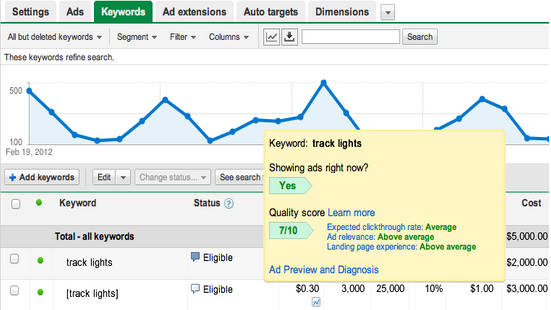 This should be very helpful, as increasing Quality Scores increases Ad Rank which, in theory, should lower Average Cost Per Click, raise Average Positions, and increase Click-Through-Rate. Ad Rank = Quality Score x Keyword Bid.
Feel free to contact us with any questions, or if you'd like advice on how to implement these changes to create a more profitable business. 512-222-7141 or info@upbeatmarketingaustin.com.
Seth Kuhn
Online Marketing Specialist