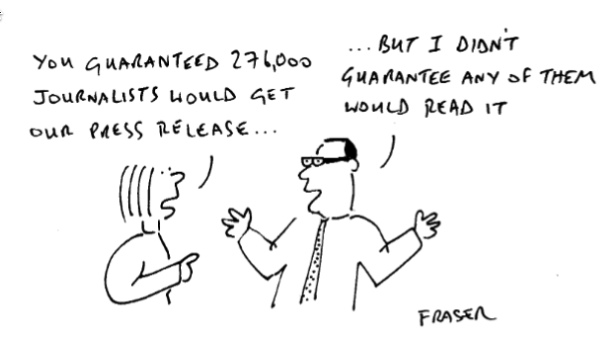 You spend several hours drafting press releases that urge people to come out to your event or to use your service or product. Then you spend several days sending these press releases out to dozens of reporters. After not hearing back, you spend hours wondering why that you didn't get the response you were hoping for. The problem? Reporters need fresh news, and they are short on time. How do you make your story interesting and entice reporters to call you back?
Use an attention-grabbing headline: The first text that a reporter sees when they look at a press release is the heading. If it doesn't instantly pop or reads like spam, it gets deleted. Use concise, active language and give enough information to entice the reporter to keep reading.
Be informative: Your press release should have the 5 Ws (who, what, when, where, why) in the first paragraph. This information gives the reporter everything he or she needs to know about your event/product/service that is significant to the public. Be sure to include your  logo or an image, a link to your website, your contact information and social media information. One more tip: Avoid overtly endorsing your company – it's both distracting and annoying!
Keep it short: Reporters receive hundreds of press-releases a day, so sticking to one page of crucial information will automatically improve your chances of getting a response. Remember reporters are on a deadline: tell them what they need to know and save the details for when they call you back!
Avoid the standard claims: Phrases like "Low Prices!" or "Great Service!" are      generic and overused. Make your event/product/service stand out by highlighting unique qualities you offer, how you differentiate yourself from your competition and how your business connects other businesses (growth and connectivity make great stories!).
KEEP IT INTERESTING: Probably the most important aspect of writing a press release is being able to engage the reporter and peak their interest. Use language that paints a picture, describes an experience and shines a light on what makes you unique! If they are intrigued, they will call you back. If they report it, you are more likely to see results and meet your goal!
Undoubtedly, writing press releases can be stressful. But by keeping these points in mind, you can avoid the headaches. Most importantly, have fun with them! If you aren't interested in writing them, why would a reporter be interested in reading them?
Lindsay Statterfield
Upbeat Marketing – PR Intern
For more information about Upbeat Marketing and our PR services, please visit www.upbeatmarketingaustin.com or call 512-222-7141.