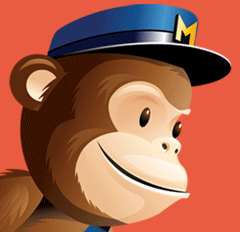 Most everyone has experienced an email marketing campaign: a thank you for an online purchase, an e-newsletter or e-blast. As a small business owner, it can be one of the most effective ways to increase sales, stay in front of your customers, and get the word out about your products and/or services.
Think of a recent email marketing piece you've received. Did it catch your attention or seem relevant? What encouraged you to click and read? Did it feature a similar product to a previous purchase? Did it offer a coupon or update on a product? Was it easy to read? Did it encourage you to purchase something new, attend an event or consider a decision in a new way?
Here's a "Thank You for Purchase" example we liked because of the creativity and casual tone – it made us want to purchase again!
Below are some simple suggestions to consider next time you sit down to create your campaign. We recommend using a professional company like Constant Contact or MailChimp.
For the Novice
1. Subscribers – Make subscribing easy with short, clear instructions and "Subscribe" links in a visible position. Same goes for "Unsubscribe". Build your subscriber list organically rather than purchasing a list or using an old list. Take privacy and settings seriously – no one likes spam.
2. Great Messaging – Engaging subject lines and snippet text in the preview panes are crucial for getting subscribers to open the message. Once they've opened it, use active, relevant language to convey your message. Finally, be consistent with your timing and frequency of messages – too frequent can cause unsubscribes, too infrequent and you'll need to work hard to reengage your audience.
3. Click-through optimization – A clear call to action is essential to eliciting a response from subscribers. According to research, you've got 7 seconds to capture their attention and incite a response. Once they click, where do they end up? Make sure each click through leads to the correct, relevant page.
4. Deliverability – Run your message through a spam filter to make sure it's not getting caught up anywhere. Make sure your email address is not on a blacklist. It becomes undeliverable if you have been reported to a spam agency – another reason to build your list organically.
5. Formatting – Nothing is more frustrating than not being able to read an email or respond when you want to. Create your message in plain text and web versions, test it in major email and webmail applications, and test it on major mobile and desktop devices. While it may not look perfect in all areas, you can adjust it to look its best.

For the Veteran
1. Subscriber Retention – Attrition is inevitable, but you can minimize it by sending a reintroduction message to stagnant subscribers, offering specials or promotions and purposing your message with relevant, trending topics. Assign your "send-froms" and "reply-tos" to actual people to make them recognizable and create trust.
2. Even Better Messaging – Persuasion is deceptive, clarity is king! Focus your messaging point by limiting options and choice (save them for a later campaign!) and giving a clear, valuable call to action. To help with clarity and specificity, use data you have about your subscribers such as product purchases, wish lists and preferences. Knowing your subscriber's purchase histories will help you detail your messaging.
3. Click-through optimization – Become a statistician. Look at your click-through timing, compare sales to promotions, and learn as much about your demographics as possible. List segmentation breaks down your subscriber demographics allowing a more targeted campaign.
4. Timing – Once you've established a consistent delivery schedule, experiment with your timing. The newest research shows Mondays as a new favorite between the hours of 8 and 10am and 4 and 6pm. Frequency is trending at twice a month, but your subscribers will tell you by their click-through timing and rates what works best for them.
5. Deliverability – Run your message through spam filters and check blacklists several times a year. Clean out your subscriber lists often by deleting undeliverable addresses and deleting or reengaging stagnant subscribers. Check all email applications, mobile devices and desktop and laptop systems to get the best formatting for all areas.
Sarah H0lick
Upbeat Marketing – Sr. Marketing Associate
For more information about Upbeat Marketing and our Email Marketing Optimization services, please visit www.upbeatmarketingaustin.com or call 512-222-7141