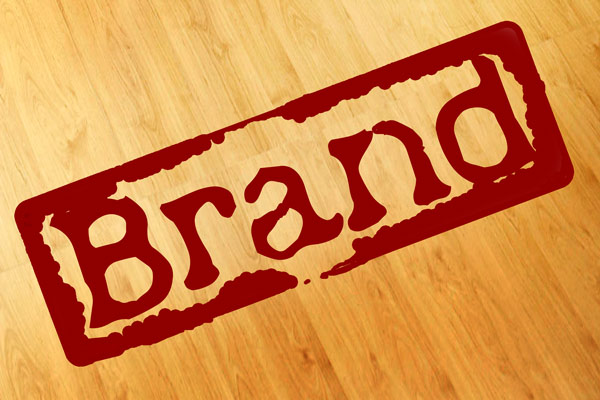 Your company logo is a very important part of your overall brand.  In many cases, your logo serves as the first interaction or experience your customer has with your business.  The logo itself can tell the story of your business or capture the personality of the company all in one swoop.  Because your logo has the ability to speak loudly for your business, we place considerable emphasis on helping clients build logos that are memorable, different and relevant.
Most clients that come to us for logo creation fall into one of three categories:
1. They have no idea WHAT they want or how it should look
2. They have certain key elements or colors in mind or a certain vision in their "head"
3. They start with a very basic logo that they created themselves years ago or had a friend throw together out of kindness — one that needs revamping!
Regardless of the starting point, our first step is always to have the client fill out our Branding Questionnaire.  This process forces the business owner to answer questions that pertain to both the EMOTION they want their brand to evoke as well as the PERSONALITY they want their business to imply.  We ask questions such as:
1. What do you consider to be your company's core values and/or beliefs?
2. What do you want to immediately come to mind when people think of your company?
3. What do you want your new logo to accomplish?
4. What adjectives should best describe your logo?
Functionally, we also determine if the client has any pre-existing ideas for their logo, including color, typeface, design elements, fonts, wording style (all caps, no spaces, etc.).  We ask questions such as:
1. Who is the target audience and who are your company's primary customers?
2. Do you have any specific imagery in mind for your logo?
3. Do you have any color preferences or existing brand colors?
4. Do you have any colors that you do not wish to use?
5. What logos have you seen that appeal to you and why?
Once these questions are answered (multiple business owners must answer the questions separately for objectivity), we begin to draft 3-10 initial logo concepts for review.
Case Study: LifeTrends
LifeTrends is a start-up technology company that provides benchmarking solutions in the life insurance industry.  To launch their business, they wanted to create a logo that would set them apart in a traditionally "boring" industry.  They wanted their logo to be smart and innovative.
They wanted to see a red/orange color scheme and sent over an infinity symbol that caught their eye.  Another idea was to incorporate a "bench" to play on the term benchmarking.  Although they did provide a few initial parameters, they also wanted the designer to have free reign for creativity getting started.
The first round of logos were very different to allow the client to identify what they liked and didn't like.  See Round 1: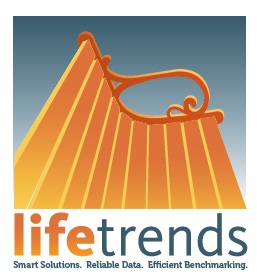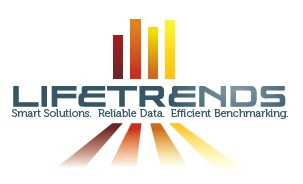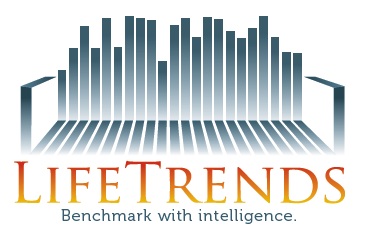 From this broad array of choices, we pulled elements of interest and combined variations of logos to settle on two primary designs concepts:
As we approached our third round of revisions, we started to refine certain elements of these logos – drop shadow, number of bars on the bench, height of bars on the bench, black vs. red lettering, etc.  We presented slight variations on each concept:
And finally, after some additional tweaks and revisions, we had the perfect FINAL logo!

If you are ready to begin the journey of creating a memorable and differentiated logo for your company, contact Upbeat Marketing at 512-222-7141 to get started!  www.upbeatmarketingaustin.com